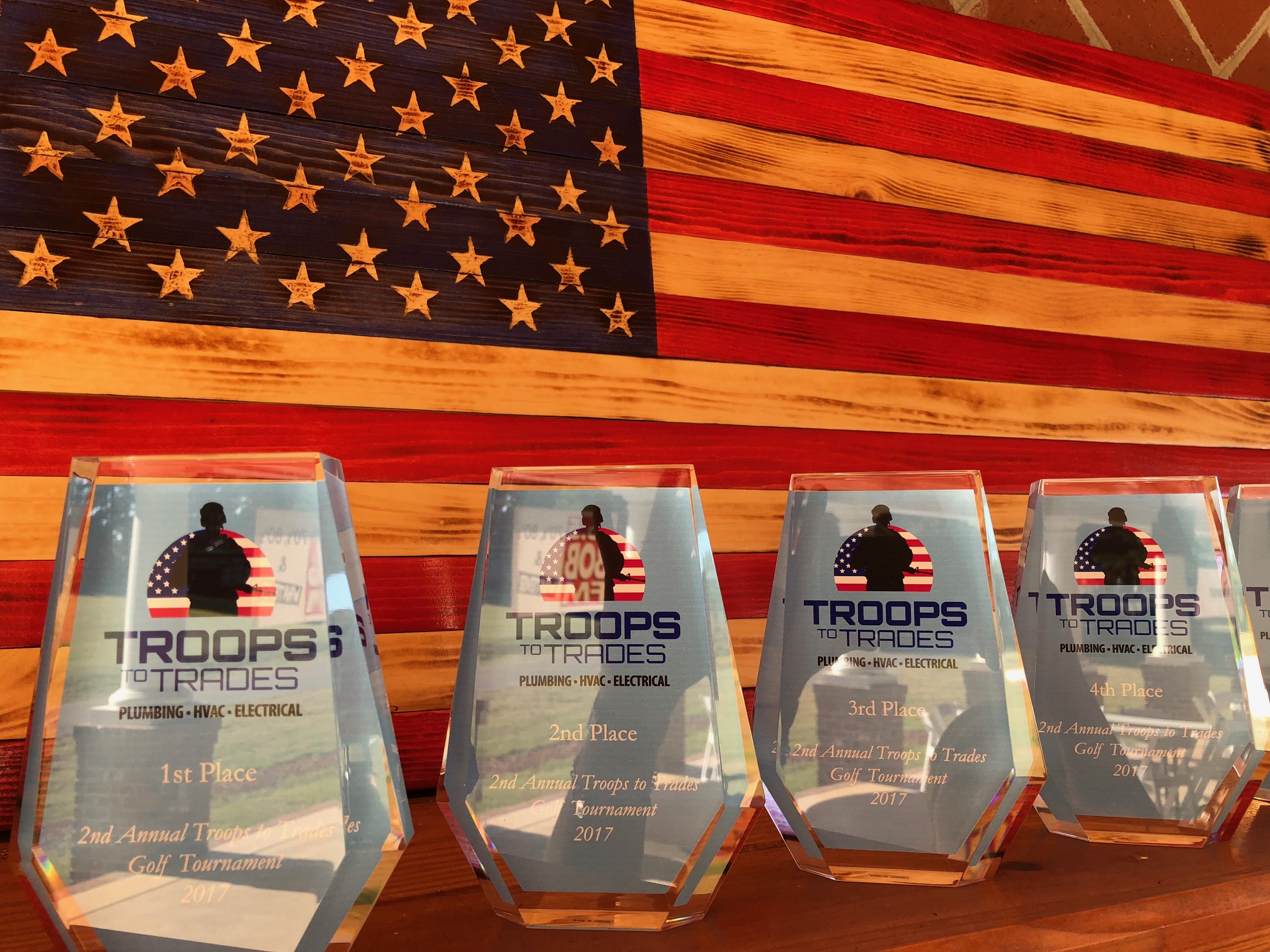 2nd Annual Troops To Trades Golf Tournament A Success!
by Jim Olsztynski
|
December 22, 2017
|
Blog
|
0 Comments
Over 80 golfers enjoyed a picture-perfect day of golf at the Gates Four Golf and Country Club in Fayetteville, North Carolina on Friday, November 3 as they supported Troops to Trades, a veteran-outreach program powered by the Nexstar Legacy Foundation.
Hosted by Will and Shanna Blanton of Blanton's Air, Plumbing & Electric, the tournament raised over $30,000, all of which will directly provide scholarships and training grants for veterans pursuing their training and education in the skilled trades of plumbing, heating, cooling and electric.
Rallying behind the event was an outstanding team of national and local sponsors. Those partners providing financial support include: Cumberland Trading Company ($7,500); Lennox ($5,000); Nexstar Network ($5,000); Blanton's Air, Plumbing & Electric ($2,500); Blanton's Wash Center ($750); Cape Fear Staffing ($750); Enterprise Fleet Management ($750); Home Service Chats ($750); JD Service Now ($750); Air Scrubber ($750); A.O. Smith ($500); LimRic Plumbing, Heating & Air ($500); PF Plumbing Contractors, Inc. ($500); IEC National ($250); Hatchery Partners ($100); Winsupply ($100); and, Hardcast ($100).
A special thanks to our in-kind sponsors, including: Mission BBQ (lunch); R.J. Jeffreys Distributing Company (beverages); Healy Wholesale Co. Inc. (beverages); Beasley Media Group (radio advertising); Bojangle's (breakfast); The Coffee Cup; A-GAS; Diversitech; Flanders; Gastite; Grayflex; Hilmor; Intermatic; Kryptek; Malco; and, RGF.
Blanton's Air, Plumbing & Electric was founded in 1951 and to this day, the shop is committed to it's long-held values of unmatched customer service and dedicated to a job done right. Consistently rated as the best plumbing, HVAC and electrical service provider in the Fayetteville area, Blanton's is also a member of Nexstar Network. Nexstar is a member-owned organization, dedicated to providing training and business networking coaching to residential contractors throughout the US and Canada.
The Nexstar Legacy Foundation, headquartered in St. Paul, Minnesota, is dedicated to attracting talented individuals to the heating, air conditioning, plumbing and electrical industries by inspiring these people to discover the prestige, earning power and stability of careers in these fields. The foundation accomplishes this by being the leading resource for information on careers and training, as well as a source of financial aid. Visit www.explorethetrades.org to learn more.
---