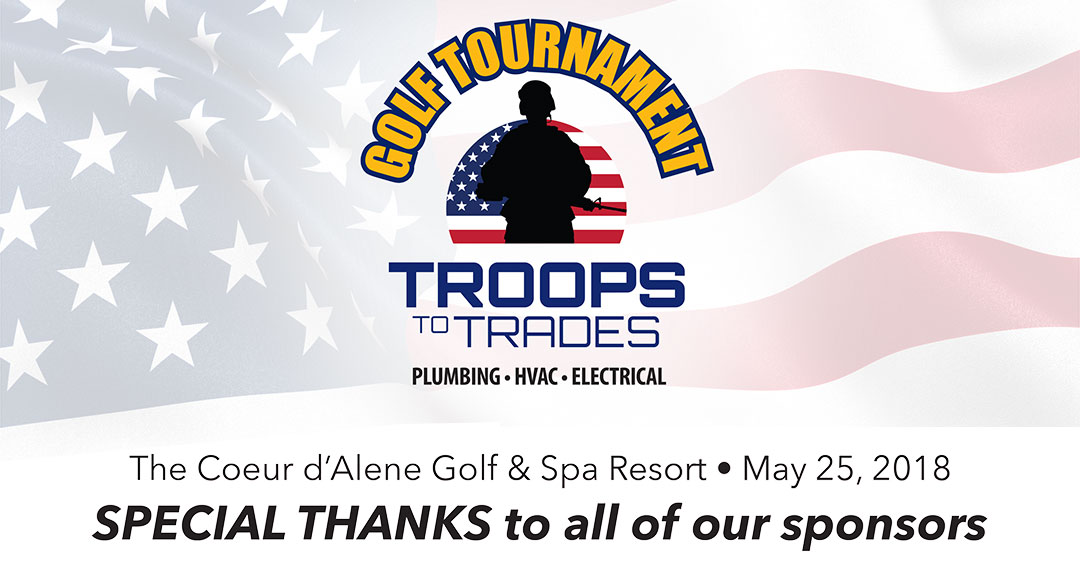 Troops to Trades Golf Tournament a Success!
by Jim Olsztynski
|
June 21, 2018
|
Blog
|
0 Comments
Coeur d'Alene, Idaho – On Friday, May 25, 2018, 92 golfers enjoyed a picture-perfect day of golf at The Coeur d'Alene Golf and Spa Resort as they supported Troops to Trades, a veteran-outreach program powered by the Nexstar Legacy Foundation.
Hosted by Todd and Elaine Damschen of Mainstream Electric, Heating, Cooling and Plumbing, the tournament raised over $27,000, all of which will directly provide scholarships and training grants for veterans pursuing their training and education in the skilled trades of plumbing, heating, cooling and electric.
Rallying behind the event was an outstanding team of national and local sponsors. Those partners providing financial support include:
One Star
AJ Danboise Plumbing, Heating, Cooling & Electrical, Albertson Performance Group, Any Hour Electric, Plumbing, Heating & Air, Blair Mechanical Services, Cardone Training Technologies, Cheetah Electric, Cintas, CRGI, Daniel Cordova Plumbing, Eco Electric & Plumbing, Electrika, Inc., GENSCO, J&D Heating and Cooling, JD Service Now, Laney's Inc., Lisa Heston, Newby-ginnings, Northwest Specialty Hospital, Paycheck Connection, R.L. Jacobs Plumbing Inc. and Steve & Kay Mills.
Two Star
Advanced Home Services, Anderson Plumbing, Heating & Air, Caccia Plumbing, Canature Water Group, Coeur d'Alene VFW Post 889, Ferguson Enterprises, ISU-Haddock & Associates, Johnson Surveying, Magic Valley Electric, My Plumber, Rapit Printing, ShadowTrackers, Stoneway Electric and Swick Media Services.
Three Star
A.O. Smith, Barnett, Goodman, HomeServiceChats, Lennox Portland Residential District, Power Selling Pros and Robert Coombes.
Four Star
Central Heating, Cooling, Plumbing & Electrical and Dutton Plumbing.
Five Star
Mainstream Electric, Heating, Cooling & Plumbing and Nexstar Network.
Food Sponsors
Ashton Service Group, Beacon Electrical, Plumbing & A/C Medic, Waldrop Plumbing, Heating, Air, Mainstream Electric, Heating, Cooling & Plumbing and Thornton & Grooms Heating, Cooling & Plumbing.
Specialty Sponsors
Eco Electric & Plumbing, Quinn Agency, Rapit Printing, ReviewBuzz, Swick Media Services and TR Miller Heating & Cooling.
A special thanks to our in-kind sponsors, including: A.O. Smith, Advanced Benefits, Awards, Etc., Laura Lewis, Blazen Divaz, Sage Boutique, Elaine Damschen, DL Scott, Inc., Embers by the Lake, Santosha, Lisa Perry, Air Scrubber, Alex Jones, Mainstream Plumbing Department and Fratelli Salon.
Proudly serving the Spokane, WA, North Idaho and the surrounding communities since 2000, Mainstream Electric, Heating, Cooling and Plumbing is one of the most respected service companies in their market. Mainstream is proudly family-owned and operated and is a member of the Nexstar Network. Nexstar is a member-owned organization, dedicated to providing training and business networking coaching to residential contractors throughout the US and Canada.
The Nexstar Legacy Foundation, headquartered in St. Paul, Minnesota, is dedicated to attracting talented individuals to the heating, air conditioning, plumbing and electrical industries by inspiring these people to discover the prestige, earning power and stability of careers in these fields. Visit www.explorethetrades.org to learn more.
---