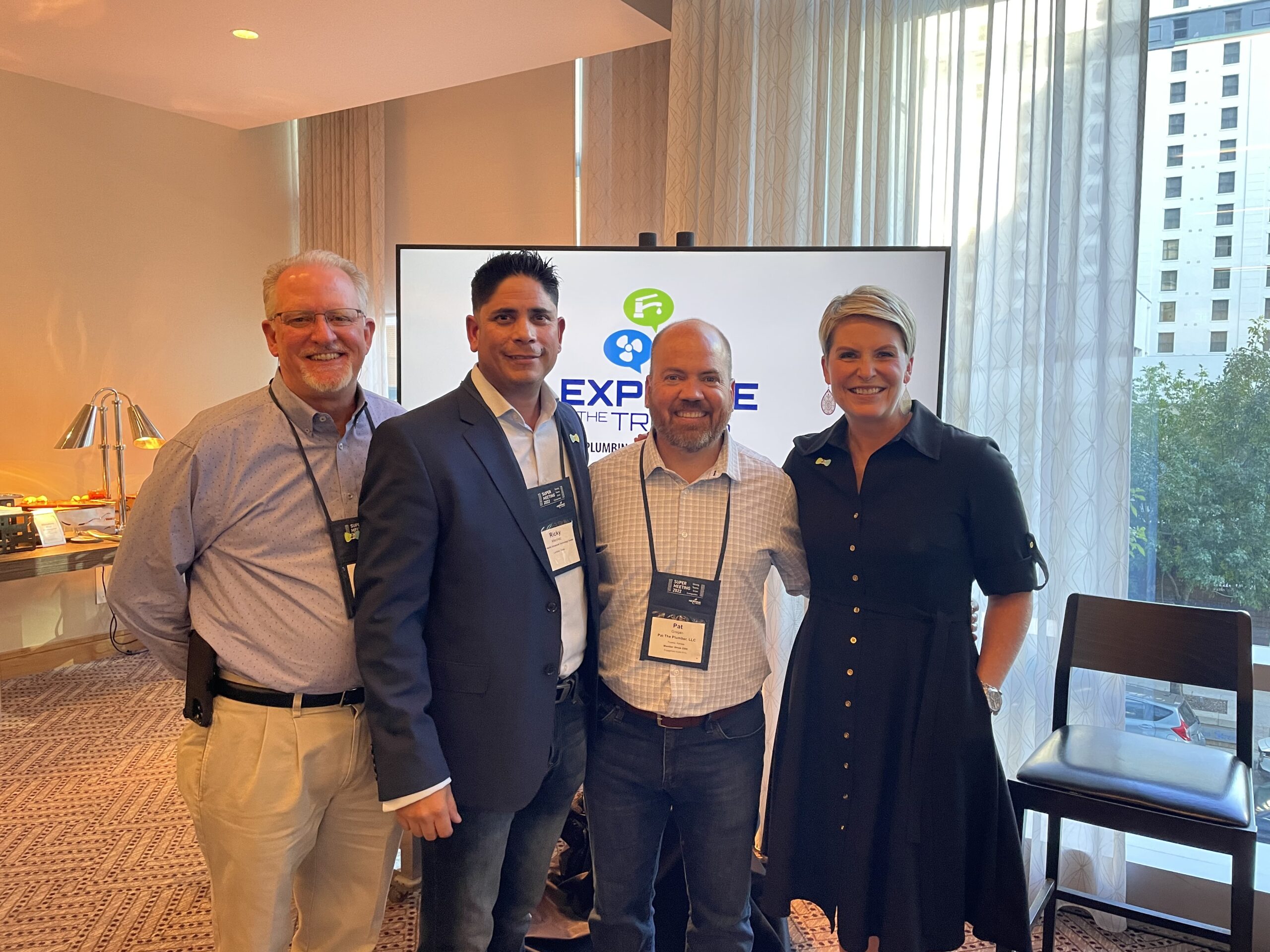 Explore The Trades Happy Hour Event
Thank you to everyone who attended the Explore The Trades Happy Hour Fundraising event at Super Meeting 2022! This event was a Texas-sized success with the support of both individuals and our corporate sponsors. Our individual donors generously gave over $20,000 and our corporate sponsors gave $35,000 to bridge the technical talent gap to the service trades of plumbing, heating, cooling and electrical.
The event featured a panel of Skills Lab industry and education partners: Pat Grogan, owner of Pat Plumbing, Heating & Air; Chris Carpenter, owner of Armstrong Plumbing, Air & Electric; and, Ricky Martinez, plumbing instructor at Byron Martin Advanced Technology Center. Explore The Trades would like to acknowledge their excitement and expertise in building community partnerships that enhance recruiting into the trades.
A special thank you to Ferguson for their continued partnership in the "Explore The Trades Skills Lab, Built by Ferguson" initiative. Explore The Trades is pleased to continue this program as we all commit to building partnerships – and technicians – in our own communities.
Air Control Home Services, Lake Havasu, AZ
Allegiance Heating and Air Conditioning, Santee, CA
Arco Bluestream Heating and Cooling, Ft. Myers, FL
Armstrong Plumbing, Air & Electric, Lubbock, TX
Art Plumbing, AC & Electric, Coral Springs, FL
Beltz Home Service Co., Findlay, OH
Blue Corona, Gaithersburg, MD
Bosworth, Midland, TX
Byron Martin Advanced Technology Center, Lubbock, TX
Caccia Plumbing, San Mateo, CA
CallSource, Westkake Village, CA
Canature, Caramel, IN
Capital Heating & Cooling, Menomonee Falls, WI
Climate Control Experts, Las Vegas, NV
Clover Electric, Chagrin Falls, OH
Comprehensive Employment Solutions, Healdsburg, CA
Connors Plumbing & Heating, Waseca, MN
Elite Electric & Air, Port Saint Lucie, FL
EverConnect, Denver, CO
Gibson's Heating & Plumbing, Waterloo, IN
Goodman, Waller, TX
HD Supply, Jacksonville, FL
JAS Wireless, JAS Wireless
JD Service Now, Durham, NC
Kalins Indoor Comfort, Sioux City, IA
Laughlin Electric, Santa Ynez, CA
Len the Plumber, Baltimore, MD
Love Plumbing, Air, Electric, West Columbia, SC
P1 Service Group, Dellwood, MN
Parham Heating, Cooling, Plumbing & Electric, Trenton, TN
Pat Plumbing, Heating and Air, Topeka, KS
Perfect Plumbing, Heating and Air, Garden City, ID
Pippin Brothers, Lawton, OK
Redwood Services, Lexington, KY
Scottco Service Company, Amarillo, TX
Seaside Plumbing, Berlin, MD
Standard Heating & Air Conditioning, Minneapolis, MN
T. Webber Plumbing, Heating, Air, Electric, Cold Spring, NY
Thornton and Grooms, Farmington Hills, MI
Total Comfort Solutions, LLC, Walla Walla, WA
Work With Your Handz, Haymarket, VA
Explore The Trades would also like to thank our event sponsors for their generous support.
---