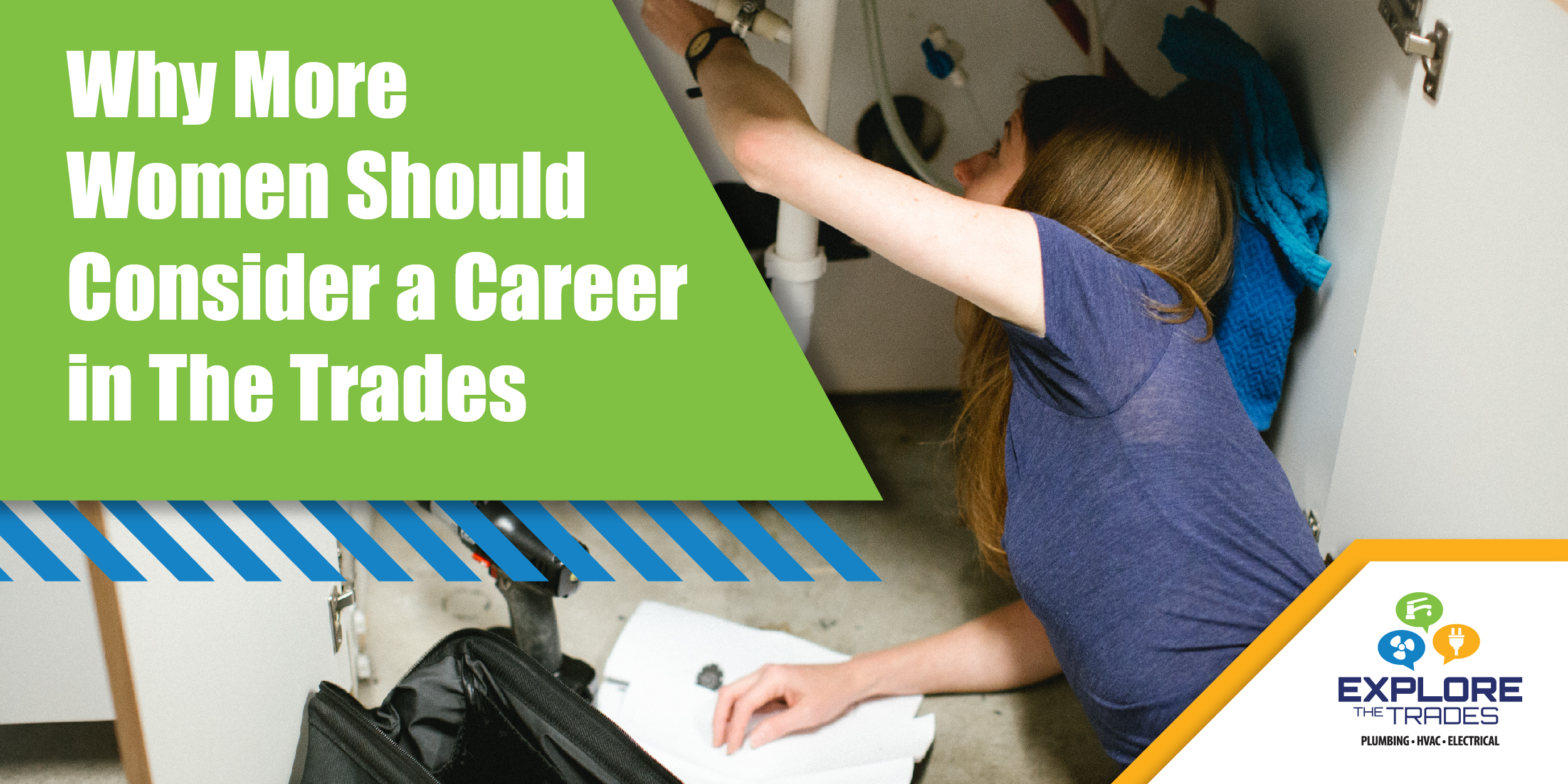 Why More Women Should Consider a Career in the Trades
Trades jobs are an excellent avenue to build one's career, pursue rewarding and meaningful work, and experience financial freedom at a much younger age than the four-year degree path. What's more, the demand for skilled trades workers is forecasted to increase steadily in the coming decade and has historically held strong during economic downturns. This makes working in the trades an attractive option for millions of workers. But why are the vast majority of trades workers men?
It may simply be legacy role stereotypes from over 100 years ago, when trade organizations first formed and were staffed mostly by men while women tended to home matters. Or, the large contingent of men may be due to the misinterpreted perception that trades jobs are somehow dangerous. While these societal behaviors have persisted over time, there has never been a better time for women to consider a career in the trades. Here's why.
There Are Vast Opportunities for Women
First off, the trades are expected to grow in demand swiftly and consistently. For example, the demand for electricians is forecasted at 8% growth over the next 10 years according to the Bureau of Labor Statistics, "much faster than the average for all occupations." The American Welding Society estimates that there will be a demand for at least 400,000 new welders in just the next three years.
With exponential growth like that, many companies and trade unions are seeking to level the playing field by finding more qualified women to fill roles. Coupled with this corporate desire, young women are showing robust interest in the trades themselves – various non-profits such as Girls Garage, Tools and Tiaras, and Girls Build have popped up to introduce young women to the trades at an early age. The Girl Scouts organization even introduced a Trucking badge after working with the Women in Trucking Association.
Surveys of high school students showed that desire to pursue careers in the trades were nearly as high for women as for men. The economy is quickly adapting to those dynamics and creating avenues for women to engage in these careers.
Financial Freedom Early in Your Career
The trades offer an additional appeal to young workers in that they offer a sustainable financial path. While a typical four-year degree candidate may spend over $200,000 on a secondary education, and spend the majority of their 20s and even 30s paying off the debt, many trades workers step into financial freedom as teenagers.
It's common for trades professionals to begin their careers shortly after high school with a paid apprenticeship. As they develop their career to become a journeyman and eventually a master trades worker, their salary and benefits generally scale up as well. Instead of digging oneself out of the hole of crippling debt for a decade, trades workers are presented with the unique opportunity to often start with zero debt, and instead build wealth and save.
Stable, Engaging, High-Demand Profession
During World War II, when millions of young adults enlisted in the armed forces, many of the vacated trades jobs were filled by women. U.S. production and economic growth boomed as women showed extreme prowess in the trades. seventy years later, women are continuing to shape the makeup and trajectory of many skilled trades professions, and for good reason. Even as technology changes and advances by the year, the demand for trades workers is not replaced by robotic counterparts. Each new advancement in electrical, plumbing, or HVAC technology necessitates skilled technicians who can repair, install, and maintain it.
The trades professions offer a uniquely engaging and intrinsically satisfying career path – one in which you can solve problems, work with complex mechanical systems, and serve practical needs. And the demand for professionals who can do these things has proven to be stable and resilient.
Shape Your Career with Explore The Trades
The women who choose a career in the trades are offered a stimulating job with a competitive salary and gratification that comes from solving real-world problems. The path to becoming a journeyman or master will vary by trade, but it starts with knowing where to turn. At Explore The Trades, we can offer you guidance on possible career paths and compensation. We have the resources, knowledge, and connections to help you craft your future. Learn more about us, and how we can help, on our website: https://explorethetrades.org/.
---