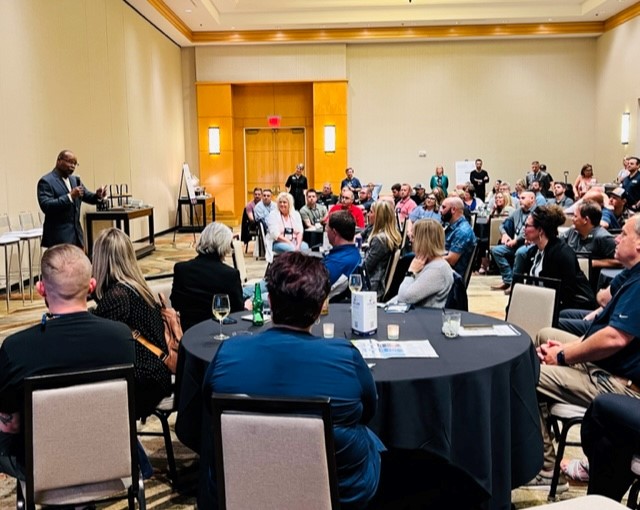 Explore The Trades Happy Hour Event
by Explore the Trades
|
October 11, 2023
|
Blog
|
0 Comments
Thank you to everyone who attended the Explore The Trades fundraiser in Phoenix!
This event was a huge success with the support of both individuals and corporate sponsors, with over $50,000 raised to support the mission of Explore The Trades, which is to bridge the technical talent gap to the service trades of plumbing, heating, cooling and electrical.
The event featured a special guest speaker, football legend Mike Singletary. Explore The Trades would like to thank Mr. Singletary for sharing his passion for the skilled trades and the importance of vocational education for so many students around the country.
A special thank you to Ferguson for their continued partnership in the "Explore The Trades Skills Lab, Built by Ferguson" initiative. Explore The Trades is pleased to continue this program as we all commit to building partnership – and technicians – in our own communities.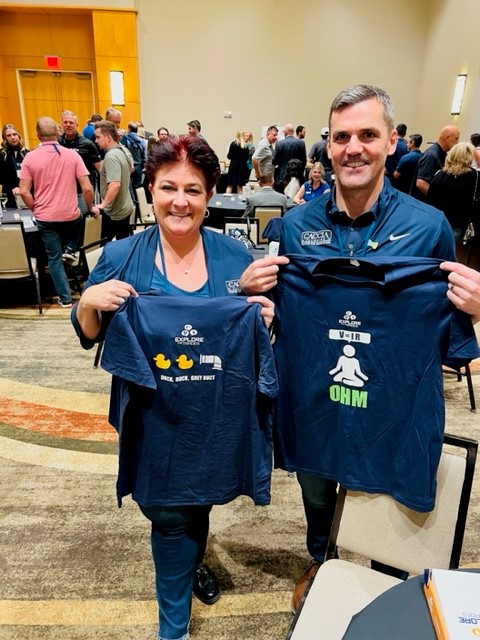 Air Control Home Services, Lake Havasu City, AZ
Allegiance Heating and Air Conditioning, Santee, CA
Alpine Climate Control, Sheridan, WY
Angi, Denver, CO
Applewood Plumbing, Heating & Electric, Denver, CO
Art Plumbing, AC & Electric, Coral Springs, FL
Ashton Service Group, Richmond, BC
Aux Home Services, Bessemer, AL
Beltz Home Service Co., Findlay, OH
Bishop Plumbing and Heating, Glenwood Springs, CO
Buck.ai, San Fransico, CA
Caccia Plumbing, San Mateo, CA
CAMP Digital, Minneapolis, MN
Canature Water Group, Pleasanton, KS
Clover Electric, Chagrin Falls, OH
Comprehensive Employment Solutions, Healdsburg, CA
Connors Plumbing & Heating, Waseca, MN
Daikin Comfort Solutions, Waller, TX
Drain Masters Inc., Anchorage, AK
Fox and Sons, Vernon, BC
HD Supply, Jacksonville, FL
Hook Agency, Minneapolis, MN
Laughlin Electric, Santa Ynez, CA
Martella Electric Company, Aston, PA
Medley Heating and Air Conditioning, Carrollton, TX
Michigan Plumbing, Lansing, MI
Mike Williams Plumbing, Heating, Cooling, Springfield, IL
Miller's Services, Gloucester, VA
My Guys Plumbing, Heating & Air, Bedford, OH
Parks Heating Cooling Plumbing and Electrical, Indian Trail, NC
Perfect Plumbing, Heating, Cooling and Air, Garden City, ID
Polar Bear Air Conditioning, Grand Caymen
Seaside Plumbing, Berlin, MD
ServiceXCEL, Nanaimo, BC
Shubee, Macon, GA
Spencer Home Services, Boxford, MA
Standard Heating & Cooling, Minneapolis, MN
Swick Home Services, Marquette, MI
Thornton & Grooms, Farmington Hills, MI
Turnpoint, Cincinnati, OH
WireNut Home Services, Colorado Springs, CO
Work With Your Handz, Haymarket, VA
Zenner & Ritter, Buffalo, NY
Explore The Trades would also like to thank our event sponsors for their generous support.
---