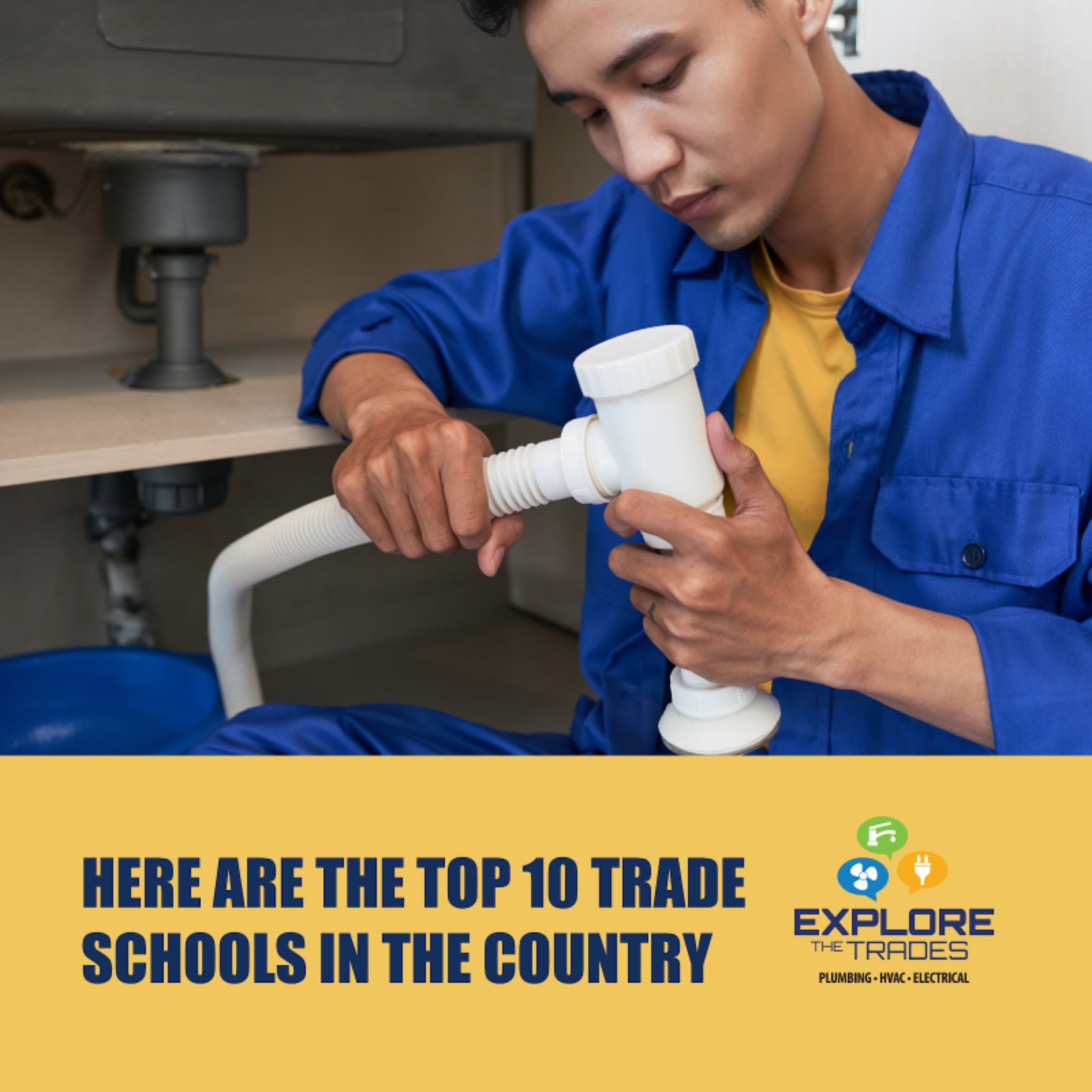 Here are the Top 10 Trade Schools in the Country
As an alternative to four-year college programs, trade schools offer students an opportunity to gain practical, hands-on training and education in their chosen career path, boasting lower tuition costs and a shorter degree track, allowing graduates to enter the workforce as soon as possible.
With an abundance of vocational schools across the country, it can be challenging to choose which one is right to attend.
Here are the top 10 trade schools in the country with a strong reputation for preparing students for successful careers.
Lincoln Technical Institute
For more than 75 years, Lincoln Technical Institute has helped students achieve professional success through personalized career support and job-specific education at their various campuses across the country.
In Their Own Words:
"Our career training schools emphasize a hands-on approach that puts students at the forefront of the technology, skills and expertise needed to excel in their chosen profession."
Universal Technical Institute (UTI)
Approximately 250,000 students have graduated from one of UTI's 15 campuses located across Arizona, California, Florida, Illinois, Michigan, North Carolina, Pennsylvania, New Jersey and Texas, according to the school's website. UTI shares partnerships with top companies in the industry, providing students with valuable networking opportunities.
WyoTech
Founded 55 years ago in Laramie, Wyo., WyoTech provides a top-notch, concentrated training program preparing students for a growing demand for technicians in the automotive and diesel industry.
In Their Own Words:
"Since that time, WyoTech has helped tens of thousands of graduates obtain training and go on to pursue great careers with a seemingly endless list of companies located all across the globe."
Fortis
Offering career-based training, diploma and degree-granting programs at 30 campuses in 14 states, this post-secondary network of colleges and institutes engages students in powerful learning and training experiences designed to develop professional skills and lifelong growth. At Fortis, students can receive an education and hands-on training in electrical, HVAC or welding jobs.
ITI Technical College
This private technical institution in Baton Rouge, La. offers degrees and certifications in various areas, including air conditioning, refrigeration and electrical technology; electronic systems technology; industrial instrumentation; and instrument and control system technology. According to the school, ITI has graduated over 10,000 technicians to work in today's high-paying occupations.
Ranken Technical College
The St. Louis-based technical college is accredited by the Higher Learning Commission and offers certificate programs as well as associate and bachelor's degrees in automotive, architecture, construction, electrical, IT and manufacturing. According to the school, Ranken graduates work gainfully across the country as web developers, electrical designers, machinists, architects, carpenters and business owners.
Triangle Tech
This Pittsburgh school enables hands-on training and technical degrees in lucrative, high-demand areas such as maintenance electricity and construction technology, RHVAC, carpentry and construction technology, and welding and fabrication technology. Triangle Tech offers 16-month educational tracks from the first day of class to graduation, priding themselves on providing students with a fast track to great jobs, a proven track record with employers, real-world skills training and continuous career services.
Pennsylvania College of Technology
As a special mission affiliate of Penn State, Penn College has earned their position as the state's premier technical college and pursues a vision to become known as a national leader in applied technology education. They are definitely one of the top 10 trade schools in the United States. According to U.S. News & World Report, popular majors at the college include:
engineering/engineering-related technologies/technicians;
construction trades;
engineering
homeland Security,
law enforcement,
firefighting and related Protective Services.
The magazine recently ranked Penn College number 6 in their Regional Colleges North category.
Midwest Technical Institute
MTI's has an expansive mechanical trades curriculum with four campuses across Illinois and Missouri. MTI guarantees accelerated graduation-to-employment turnover: seven months for welding craftsmen, 10 months for pipe fitters, or nine months for HVAC/R technicians. MTI holds national accreditation by the Accrediting Commission of Career Schools and Colleges (ACCSC) for their course offerings.
ETA International
ETA International is a not-for-profit 501(c)(6) trade association that serves as the leader in accredited, industry-recognized certifications for technical professionals, according to their website. ETA offers over 80 accredited, vendor-neutral certification programs in a variety of technology fields such as fiber optics, communications, electronics, biomedical, smart home and renewable energy. This accredited Greencastle, Ind., school was founded in 1978.
Explore Your Best Career Path
Once you've received the degree or certification in a field you're passionate about, it's time to apply your hard-earned education to a position that complements your talents and skills.
At Explore The Trades, our mission is to recruit individuals to the plumbing, heating, cooling and electrical trades — industries that keep our country running. Jobs in these industries are in high demand and come with great pay, career opportunities and job security. We want to help you discover that these careers aren't just a choice — they're the best choice.
Contact us to get started on your career path today.
---