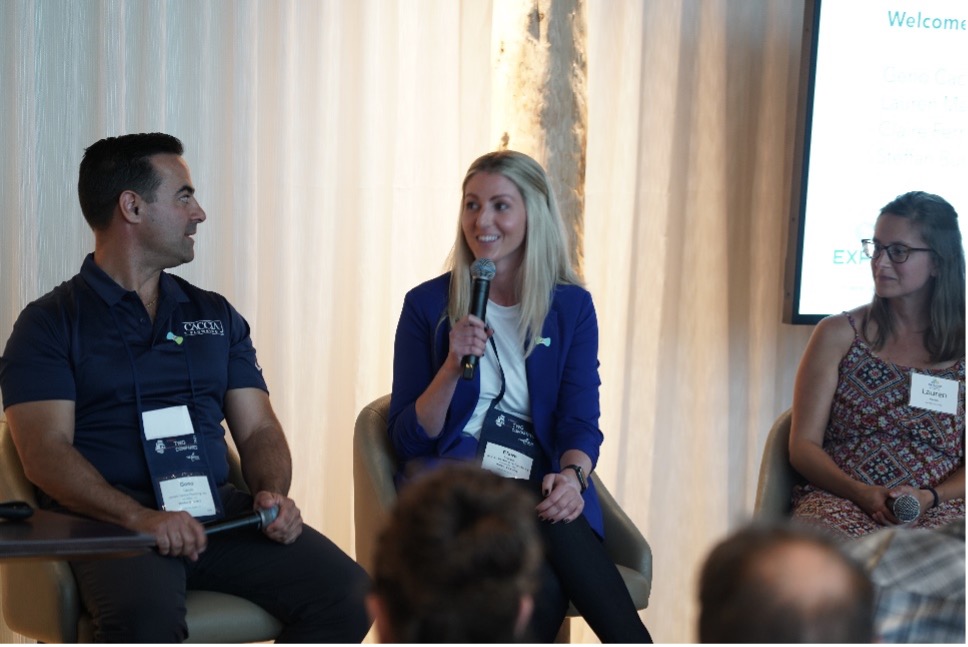 Over $20,000 Raised at "Passion & Partnership" Event
by Explore the Trades
|
October 25, 2021
|
Blog
|
0 Comments
Thank you to everyone who attended the "Passion & Partnership" fundraising event! Together, over $20,000 was raised to bridge the technical talent gap to the trades of plumbing, heating, cooling and electrical.
The event featured a panel of residential service providers: Geno Caccia, CEO of Caccia Plumbing; Lauren Martin, Vice President of Seaside Plumbing; and, Claire Ferrara, Owner and President of Standard Heating & Air Conditioning. Explore The Trades would like to acknowledge their excitement and expertise in building community partnerships that enhance recruiting into the trades.
A special thank you Ferguson for their partnership in premiering the "Explore The Trades Skills Lab, Built by Ferguson" program. Explore The Trades is pleased to introduce this pilot program exclusively to Nexstar Network members as they commit to building partnerships – and technicians – in their own communities.
Air Treatment Company, Vienna, VA
Allegiance Heating and Air Conditioning, Santee, CA
Apex Service Partners, Ft. Myers, FL
Arnold Plumbing, Peoria, IL
Art Plumbing, AC & Electric, Coral Springs, FL
Ballard Plumbing, Heating & Air Conditioning, San Bernardino, CA
Barker & Sons Plumbing & Rooter, Orange, CA
Beltz Home Service Co., Findlay, OH
Caccia Plumbing, San Mateo, CA
Clover Electric, Inc., Chagrin Falls, OH
Comprehensive Employment Solution, Healdsburg, CA
Connors Plumbing & Heating, Waseca, MN
Current Electric Company, Wauwatosa, WI
Davis Heating, Air & Plumbing Co, Rocky Mount, VA
Drain Masters Inc, Anchorage, AK
Dynamic Air Quality Solutions, Rocky Hill, NJ
Ferguson, Newport News, VA
Genz-Ryan, Burnsville, MN
George Brazil Plumbing & Electrical, Phoenix, AZ
Goodman Manufacturing, Houston, TX
Good's Electric, Heating & Air, Youngstown, OH
Goodzer, Reston, VA
Home Depot Pro, Jacksonville, FL
J&D Heating, Cooling & Water, Nampa, ID
Jas Wireless, New York City, NY
Kindred Plumbing and Heating Inc., Great Falls, MT
KMA Home Services, Newark, OH
Lascko Services, Muskegon, MI
Lazer Home Services, Des Moines, IA
Mainstream Electric, Heating, Cooling, Plumbing, Spokane Valley, WA
Mattioni Services, Dowingtown, PA
McCormick Electrical Services, North Liberty, IN
Monkey Wrench Plumbers, Los Angeles, CA
Noritz America, Fountain Valley, CA
Perfect Plumbing, Heating & Air, Boise, ID
Pristine Plumbing, Irvine, CA
Real Plumbers, Oxon Hill, MD
Rinnai America Corporation, Peachtree City, GA
RSC – Reynolds Specialty Contracting, Springfield, OR
Seaside Plumbing, Berlin, MD
Standard Heating and Cooling, Minneapolis, MN
Swick Home Services, Marquette, MI
Thornton and Grooms, Farmington Hills, MI
Total Comfort Solutions, Walla Walla, WA
TR Miller, Plainfield, IL
Turnpoint Services, Louisville, Kentucky
Work With Your Handz, Haymarket, VA
Explore The Trades would also like to thank our event sponsors for their generous support.
---