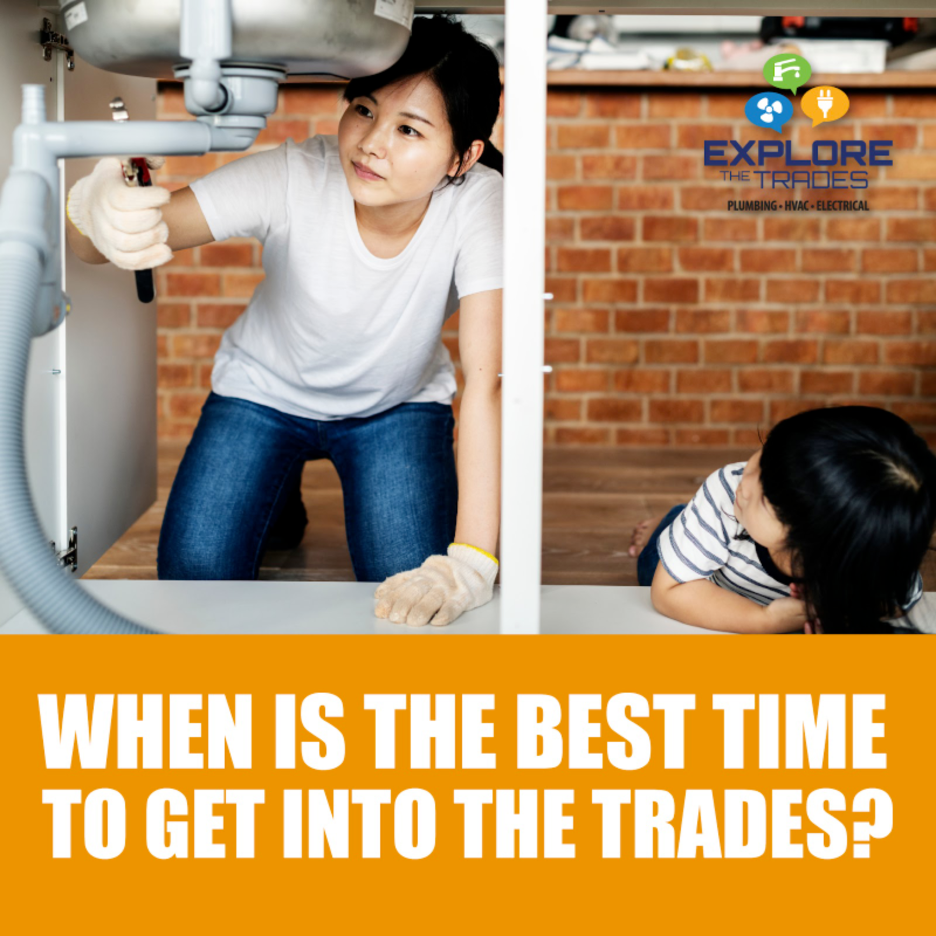 When is the Best Time to Get Into the Trades
There are few truer sayings than "It is never too late." It's never too late to change, build better habits, or take on new challenges. It is never too late to launch a career that is fulfilling, stable, and allows you to provide for yourself and your family.
The trades offer exactly that type of opportunity. For example, maybe you find yourself in a line of work where you feel you have maxed out your advancement possibilities and are still struggling to make ends meet. Or maybe you completed your degree and have found that there are not as many opportunities in your field as you had hoped. You could even be a recent high school graduate who feels like you're missing the boat as your peers leave for college even though you know it isn't the right fit for you. And while you've heard others talking about trade programs, you're hesitant to learn more.
Let's take a look at each of these scenarios to help decide when is the best time to apply to trade school and apprenticeship programs.
Stuck In Your Current Role
Maybe you are working in retail or the service industry. You've worked hard and earned several promotions. However, despite your supervisory role, you are still just getting by. You might not be behind, but you find it difficult to get ahead through saving and making investments. Many of the jobs in each of these industries offer only a steady paycheck with no benefits, leaving you in a difficult position should any medical issues arise. The lack of paid time off makes it difficult to spend time with your loved ones.
If you are no longer fulfilled in your current line of work, there are opportunities waiting for you in the trades.
Post-Grad Blues
You worked hard to earn your degree. You put in four years of money, time and effort — you may have even taken out student loans to complete your degree. Now that you are ready to join the field you dedicated a significant portion of your young life to preparing for, you find that the opportunities do not match your ambition. Perhaps it is a field that relies on further education just to get started. Or maybe the industry has not grown much or faced much attrition while you have been in school, leaving you with little opportunity. In any event, you are faced with a choice: either continue your education to hopefully land a position or train in an industry that has more ample opportunities.
Direction for the Future
We have all faced the indecision that follows high school. Do you get any job you can and just start working? Do you go to college? These questions are just the tip of the iceberg. There is so much you have to figure out and decide for yourself at this, it can become overwhelming.
The best part of this stage of life is that you don't have to have all of the answers — you just need direction. There are fields out there that will help you find your direction while you make your path.
Now Is the Time To Enter the Trades
If you are considering the trades, the best time to get into them is now! No matter where you find yourself in life, the trades are waiting for you. Whether you join through an apprenticeship or enroll in a trade school,, your journey into the trades will be supported along the way. Explore The Trades is here to help you find the right trade for you. With resources for students, parents, educators and those seeking a career change — we can help you get started.
Reach out today for more information!
---